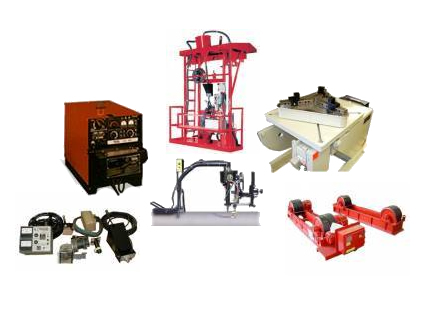 Mitrowski Welding Equipment has a large fleet of welding equipment available for rent and through our Rent to Own Program. We have worked with companies across the globe, helping many businesses find the right rental welding equipment for their business needs. When you rent from Mitrowski, you can count on the expertise of our staff. Our knowledgeable staff is available to answer your questions or offer advice before and during your equipment rental.
Wide-Ranging Inventory of Rental Welding Equipment
We maintain a large inventory of welding machines for rent. We offer both welding equipment and welding supplies to meet the needs or requirements of any welding project. Our rental welding equipment inventory includes:
Our rental fleet includes a wide range of equipment, not all of which are listed here. If you don't see the welding machinery your project requires, please give us a call at
800-218-9620
or
contact us
. Our welding equipment experts can help you find the right equipment for your unique needs.
Factors to Consider when Deciding to Rent or Buy Welding Equipment
When estimating your welding equipment needs, there are three important factors to consider:
1. How often will you use your welding machinery?
If you won't be using it 60 to 70 percent of the time, you should consider renting welding equipment. However, how will cost and timing be affected if you don't have the correct machinery available right away for regularly occurring jobs? You'll want to balance machine use versus availability for given projects.
2. How many welding machines will you need to complete the job?
If your business does not regularly require the use of large numbers of welders, rental equipment is likely the best option. If you are regularly involved in large construction or teardown jobs, or similar high-volume work, buying your welding equipment would be ideal.
3. What welding technology do you need for optimal productivity?
Based on your clientele and project load, what welding equipment is always needed? What equipment do you require on a strictly as-needed basis? If the lack of a specific machine will affect your bottom line, purchasing welding equipment may be your best option. But if you need certain machines only per-project, rental welding equipment is the solution you need.
Not sure what equipment is right or suitable for your welding needs?
Contact us
to discuss your welding project. Our knowledgeable, experienced welding experts can help find the right welding equipment for you to rent.
Welding Machine Repair
We offer welding machine repair for most all makes and models of your welding equipment. Whether it's a simple welder repair or complete rebuild of your welding machinery, Mitroswki is an experienced welding repair shop and welding supplier that will do the job right.
Rental Options While Your Welding Equipment is Being Repaired
For your convenience, Mitrowksi Welding Equipment also offers welding equipment to rent while your welding machinery is being repaired or serviced. Renting welding equipment will allow your business to stay on track, giving you peace of mind while your equipment is being repaired.
We also offer daily, weekly, and monthly welding equipment rental options. These rental options provide the flexibility and cost-effectiveness needed to meet the demands of every unique welding project.
For longer term projects, we also offer a Rent-to-Own agreement. With a wide range of welding machine and supplies inventory, you may decide to upgrade your welding equipment using a cost effective Rent-to-Own option.
A Cost-Effective Solution for Welding Equipment and Supplies
At Mitrowski Welding Equipment, we know you're under pressure to increase productivity and efficiency. We know you're looking carefully at equipment costs and project needs. With our welding equipment rental options, we make it easy for you to run a cost-effective business.
When renting welding equipment, rental costs can be treated as a job cost. You can then charge the cost to the project and recoup your expenses. Renting welding positioners, manipulators, and other welding equipment, can also benefit you at tax time—there are no property taxes or licensing fees to pay, and you can write it off as a business expense.
Contact Us for Welding Equipment Rental and Repair
Mitrowski Welding Equipment is your number one resource for rental welding equipment. We offer the value, reliability, and expertise to meet and exceed your expectations. Contact us or get a quote today to rent welding positioners, manipulators, or other welding equipment supplies.